We sell our puppies as companions with Limited AKC registration to be spayed or neutered. Show prospects are occasionally available to breeders who share our goals in a breeding program and co-ownership is required. If interested in a puppy for show and breeding, contact me for availability and terms.
We do NOT sell puppies to anyone producing any form of "doodles" or other mixes.
All perspective buyers require two references I can speak with personally. Even with two good references I still have the right to refuse placement if I feel the home is not a good match for the individual puppy. We also require all buyers to sign a Contract. *Contact Gloria if you would like to view a copy of our Contract.
Updated: 3/2/2023
Our Miniature Poodle litter has arrived!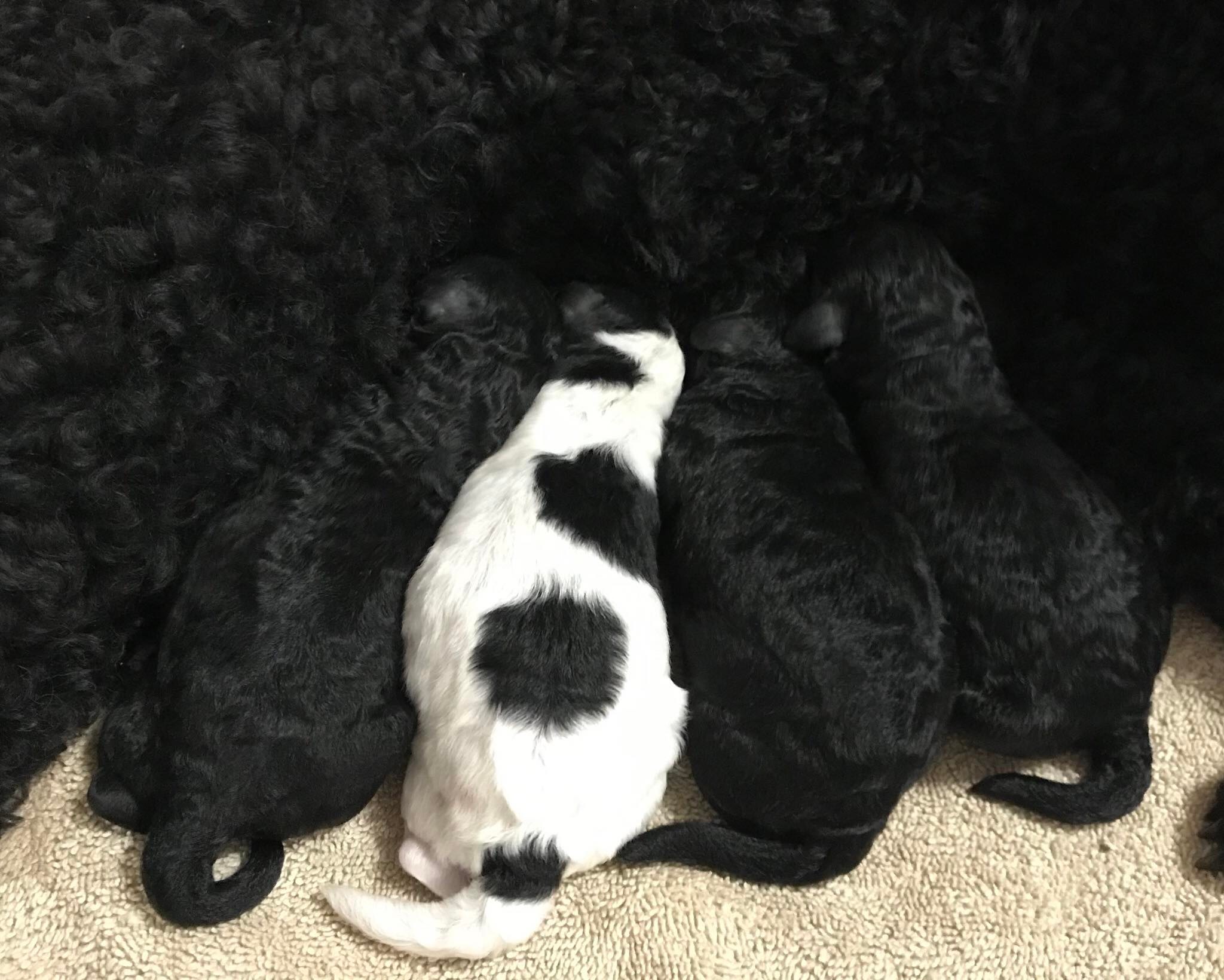 2 boys, one black and one black & white, 2 girls both black.
While temperaments can vary between puppies, we expect this litter to be moderate energy minis that have potential to do some entry level performance or family companions without needing a "job" to keep them entertained. The mother is very friendly and sweet, with more laid back energy for a Mini. The sire is very playful and loves to do things with his people, but also has an off switch and is content to cuddle in your lap. 
While we cannot guarantee a size, we predict they will be closer to the upper end of the height at 15". 
Sire's Health Testing:  
OFA
Paw Print Genetics (DNA)
Dam's Health Testing:  
OFA
(Also Normal for Cardiac, Eyes and Patellas) 
Paw Print Genetics (DNA)
(Also Clear/Normal for DM & CDDY-IVDD)
We have 1 solid black puppy available from this litter. Since puppies will be selected on best fit for their future home, those interested in a puppy have to be open to either gender. 
All potential homes are required to fill out an application to help us in matching the right home for our puppies.
For more information please
email Gloria
or fill out our
application
. 
Our next planned litter of Standard Poodles would be Summer of 2023. 
We are waiting for our girl "Chante" to come into season, she is due to come in around mid April. 
This litter would be all solid silvers. 
---
If you would like to reserve a future puppy please contact Gloria for more information on our policies for leaving a deposit. 
Deposits are non-refundable, except in the event that the desired color, sex, or temperament is not available.
Available Adults & Young Adults
Updated: 5/12/2018
We have no adults or young adults available.