AM CH/U-CH Tintlet Anutta Secret Keeper
Color: Black
Birth Date: December 31, 2012
Height: 26" at 1.5 years of age


Health Testing:
Hips: Good
Elbows: Normal
Eye Exam: NORMAL (2014/2015)
Echo-Cardio Exam: NORMAL
NE: Clear
DM: Clear
vWD: Clear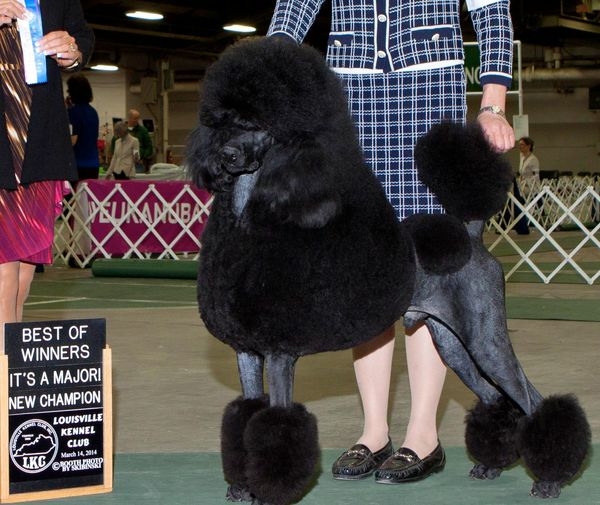 Sirius is a son of Kachina

(U-CH Tintlet When Stars Go Blue)

and Jordan, AM CH Calisun Aris Satisfaction Guaranteed, owned by Bev Crosby of Calisun Poodles.
Show Highlights
March 14, 2014: Sirius wins BOW for a Four point Major to finish his AKC Championship!
March 8 & 9, 2014: Sirius earns 4 points towards his AKC Champion title.
Feburary  8, 2014: Sirius wins BOW for a Five point Major win towards his AKC Champion title.
October 2014: Sirius wins WD for a Three point Major win towards his AKC Champion title.
AM CH/U-GRCH Tintlet Wisecracking Gambler
Color: Blue
Birthdate: November 3, 2006
Height: 25" at 2 years
Bret is retired from our program and lives with his owner Josh.


Health Testing:
CHIC #:56327
OFA Hips: Excellent
OFA Elbows: Normal
CERF: Normal (2010, 2011)
SA Biopsy: Normal
Thyroid: Normal
DM: Normal
NE: Clear by Parentage
Bret is out of our "Levi" UWP U-GRCH Sisco's I Like It Like That and "Ivy" U-GRCH Windswept Benet Charmed. He is a litter mate to GiGi.
Bret was shown as a puppy in UKC, finishing his U-CH title in August 2007. He went out to complete his AKC Championship title in May 2008, winning 3 back to back to back majors his first weekend out! In 2010 he came back home for a short visit and was shown in a sporting clip to complete his UKC Grand Championship title, along with winning back to back Reserve Best in Multi Breed Show awards.
Bret is Co-owned with Becky Baxter of Anutta Standard Poodles. He is the father of our "Tammy"